Glycerol 100%
Regular price

Sale price

$8.99
Well known for packing a punch of moisture, Home Essentials Glycerol is an excellent addition to your skincare routine. Use it as a moisturiser, lip balm, to help repair cracked hands and heels, and even revive gluggy or gloopy nail polish and mascara by adding a few drops.

Glycerol can also provide relief from night cramps and can be used in a simple home remedy to remove warts.

Around the home, it's very versatile and easy to use. It can be made into a handwash, will add shine to floors and tyres, protect leather, defog glass and mirrors, suppress dust build-up, and remove stubborn fat stains from clothes and dishes.

Glycerol is a good bait for cockroaches, and helps protect trees and plants from insects.
Read more
Ingredients
Warnings

For external use only. Avoid contact with eyes.
Delivery

Delivery Fee: We offer FREE delivery within New Zealand on all orders at $50 NZD and above. For orders under this amount, handling & shipping is just $7.99 for North Island, and $9.99 for South/Outer Island.

Delivery Timeframe: Orders are processed and dispatched twice a week (Tuesday & Thursday), cut-off time is 5pm Monday, 5pm Wednesday.

Please allow couriers 3-5 days for delivery. For rural addresses, please allow for an extra 1-2 days for delivery. Please note that delays in courier times are out of our control. Estimated delivery times are to be used as a guide only. Deliveries take place Monday - Friday.

PO Box Delivery: Unfortunately, we are unable to deliver to post office boxes at this time. A signature is required on delivery for all New Zealand orders.

Delivery Acceptance: All orders will be dispatched on a signature-on-delivery courier. All parcels will be delivered to the provided address and will require a signature on receipt. Providing a work address for delivery is recommended if no one is home during business hours. Due to security issues, the parcel cannot be left unattended. Where no one is home to sign for the parcel, a card will be left detailing the nearest pick up point.

This is subject to the courier or delivery provider's protocol and policy.

Order Tracking & Enquiries: An order confirmation will appear as the final step in your order process. You'll also receive an email confirmation with an order number and a purchase summary. Once your order has been shipped, you'll receive an additional email confirming the shipment. This email will include tracking information (where applicable).

Christmas Delivery Cut-off:
The last parcel dispatch for orders to be delivered before Christmas will be on 21st December 2023. To qualify for this dispatch, please ensure that your orders are placed by 20th December 2023, 11:59 pm (NZST). While we strive to make every effort to deliver your parcels before Christmas, we regret to inform you that we cannot guarantee delivery before the holiday due to potential postal delays during this busy season.

However, we can assure you that all orders placed by the cut-off time on 20th December will be dispatched on 21st December 2023.

New Year Delivery Cut-off:
Orders placed between 21st December 2023 and 8th January 2024 will be dispatched on 9th January 2024. Please take this into consideration when placing orders during this period, as there may be a delay in the dispatch and delivery of your items.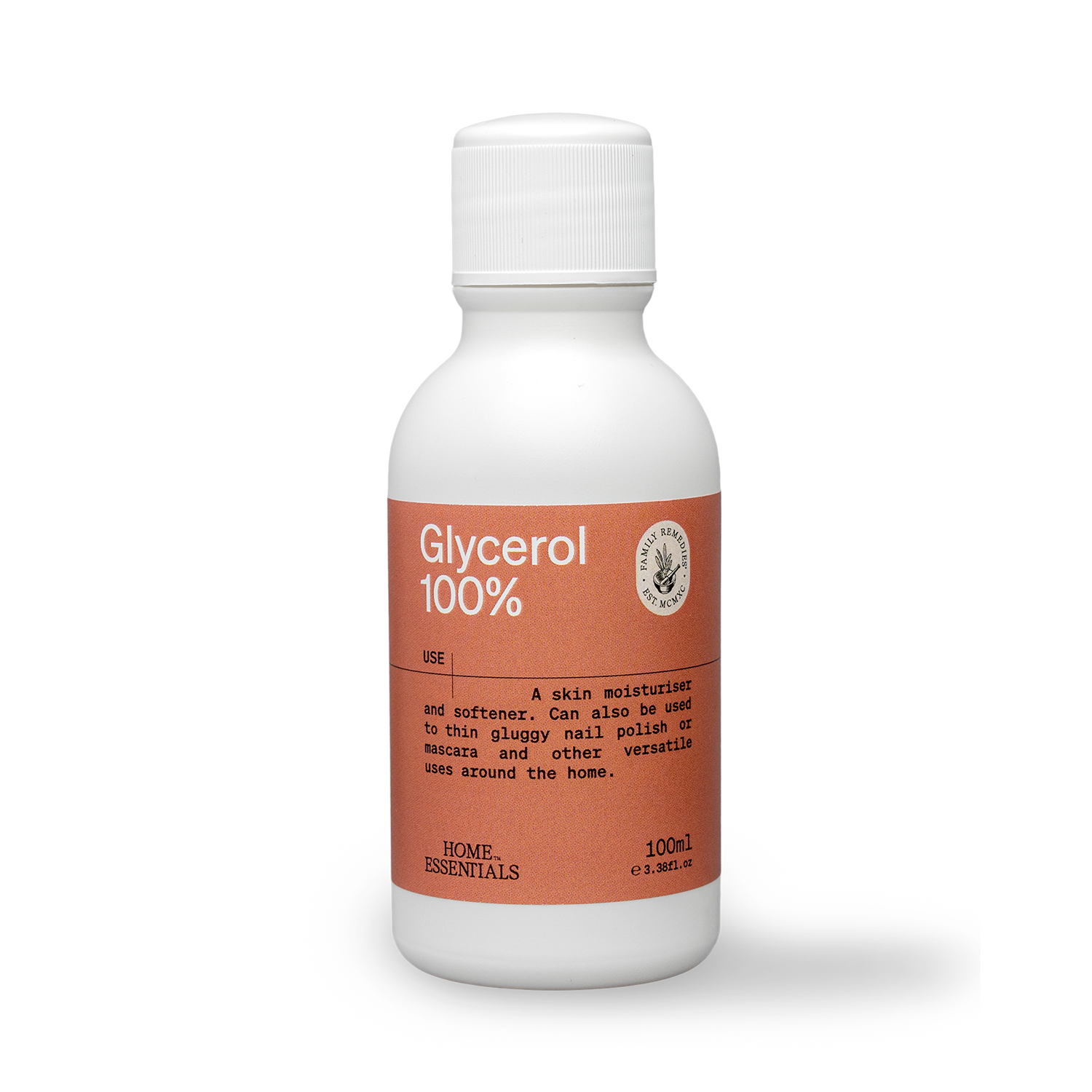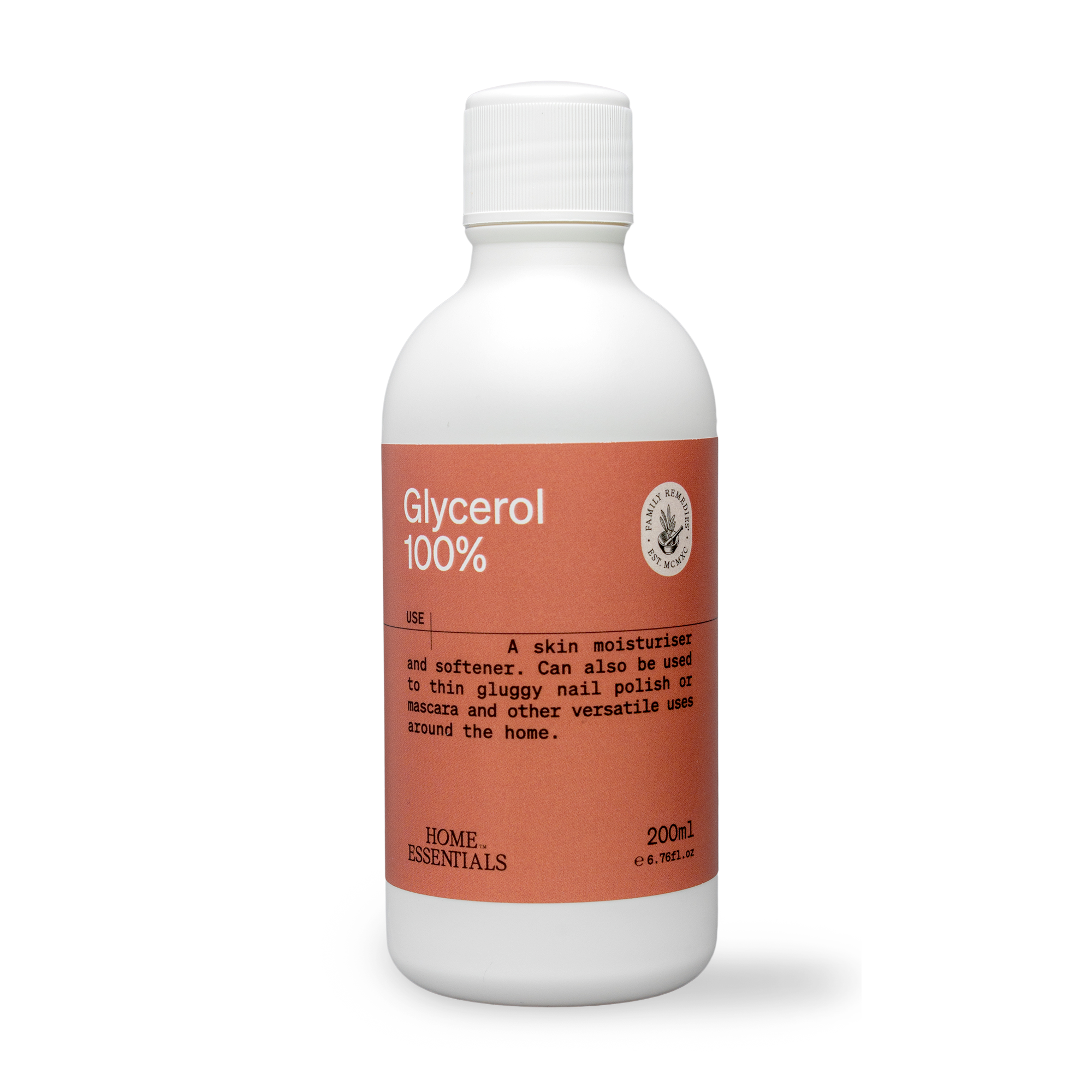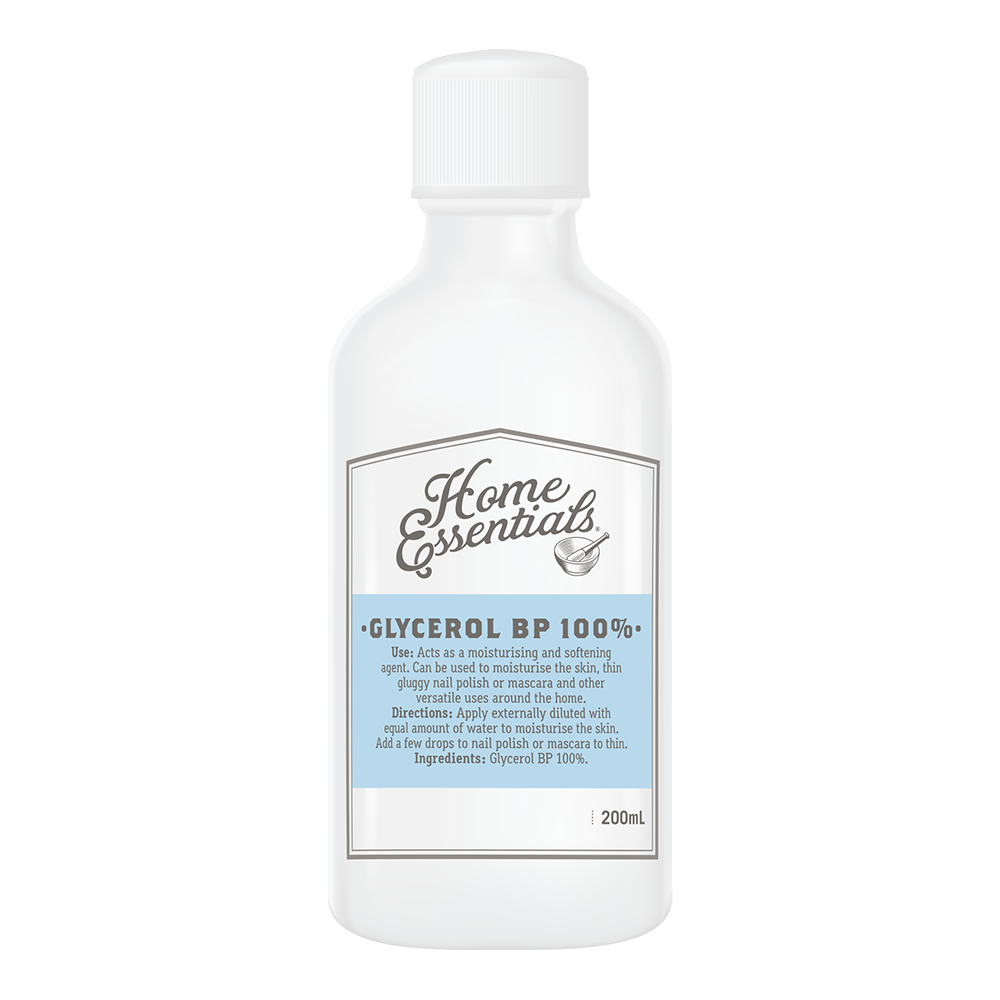 How to use

Moisturiser
Dilute with an equal amount of water and smooth over skin where needed.

Dry Skin Lotion
Mix 2 tbsp Glycerol with 1 tbsp Rosewater. Smooth over body at night, rinse off the following morning.

Glossy Lip Balm
Mix a paste of Glycerol and Petroleum Jelly.

Liquid Hand Wash
Gather together 2 tsp Glycerol, 2 tsp Rosewater, 10 drops Rose Essential Oil (or any of your choice), 2 tbsp grated soap, and 250 ml boiling water. Add grated soap to boiling water, stir and let sit for about 10 minutes until melted. Then stir in Glycerol, Rosewater and Essential Oil. When the mixture is smooth and still warm, pour into an empty soap dispenser bottle, as when cold it will be jelly-like and hard to pour.



Night Cramps
Before bed, massage directly onto skin where cramps occur.

Gluggy Mascara and Nail Polish
Add a few drops to nail polish or mascara to thin.

Warts
Mix 3 tbsp with 1 tsp vinegar and apply daily where needed.



Floor Cleaner
Add a few drops to a bucket of warm water.

Dust Protection
Dilute a few drops in water and wipe surfaces with a cloth soaked in the solution.

Fat and Oil Stains
Slightly warm Glycerol, apply to stain and leave for 30 minutes before washing as normal.

Dry Spills
Dilute 50:50 with water to soften dry spills.

Seed Treatment
Mix 1 part Glycerol with 5 parts water and soak the seeds in the solution for 30 minutes to assist with germination.

Leather Repair and Protection
Soak a cloth in Glycerol and wipe the damaged area with it. Repeat as required.

Tyre Shine
First, wash and dry tyres as normal. Then mix equal parts Glycerol and water and spray the mixture onto the tyres, or wipe the tyres with a cloth that has been soaked in the mixture.

Dishwashing
Dissolve 25 g soap flakes in hot water before adding 1 tbsp Vodka and 4 tbsp Glycerol.

Wool Care
First, mix 1 tsp with 2 l water and soak item in mixture. Then mix 1 tsp Ammonia with 2 l water and soak item in this mixture. Material will be fluffier and softer once dry.

Defog Glass and Mirrors
Mix equal parts Glycerol and Methylated Spirits and use to wipe glass and mirrors.

Trap Cockroaches
Pour Glycerol into a glass jar, then coat the inside walls of the jar with sunflower (or other) oil. The cockroaches will be attracted to the Glycerol and get stuck in the jar.